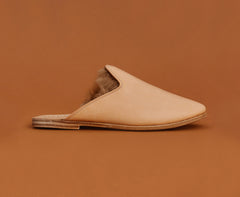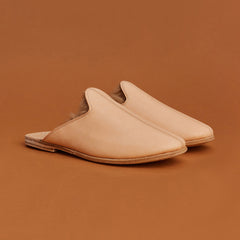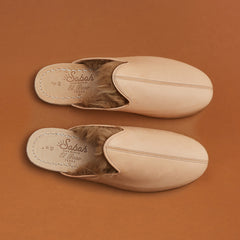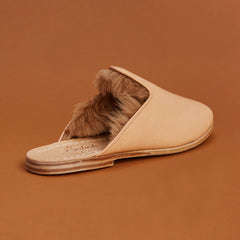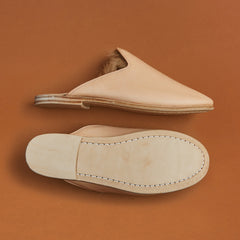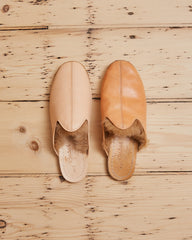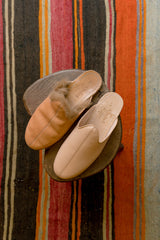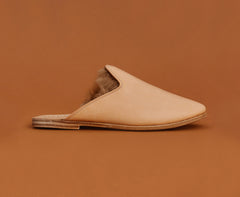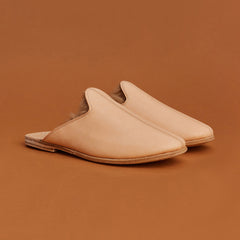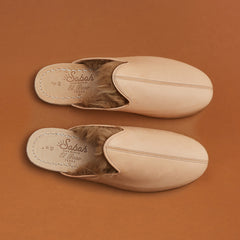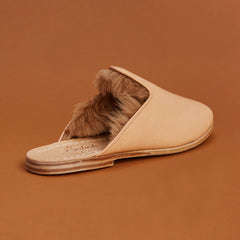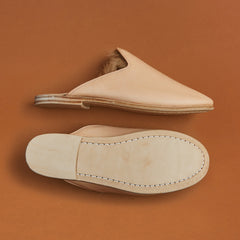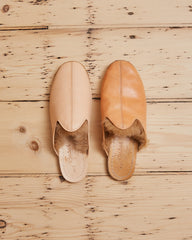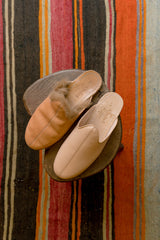 Men's El Paso Shearling Baba
£230
This wintertime Baba is all about how it ages thanks to our use of undyed, vegetable tanned saddle leather. Just like it's unlined sibling, the El Paso Shearling Baba starts out smooth, light and bright and develops a rich, golden hue and takes on a gorgeous patina with wear.  Vegetable tanning refers to an ancient leather tanning method which uses natural elements such as oak, spruce bark, quebracho, tara pods, olive leaves, rhubarb roots or in some cases mimosa. It's been around for centuries but less than 10% of the world's leather is tanned this way today. Sabah veg tan leather is thicker and tougher and will develop a buttery one-of-a-kind patina because of the natural tannins we use in the tanning process. In addition to the veg tanned upper, we also use a unique, vegetable tanned Italian bull leather sole, heel and insole, and a unique channeled, lock-stitched construction that is not common in modern footwear. Your Shearling Babas will break in with wear, stretching and forming to your feet to become uniquely yours. This process is what makes them so great!
more
Natural Leather Upper
Natural Extra Cozy Shearling Lining
Water Buffalo Leather Sole
Sabah Workshop El Paso, Texas
SHEARLING IS A NATURAL MATERIAL. LENGTH AND LOOK OF SHEARLING WILL DIFFER FROM PAIR TO PAIR BUT WILL ALWAYS BE WARM AND COZY :)
About the El Paso Shearling Baba
In early 2019, we landed on El Paso, Texas as the home of the second Sabah Workshop. Our vision is for our El Paso Sabah Workshop to be a place that produces the same beautiful Sabahs & Babas you've come to know, that serves as an outpost for collaboration between our Turkish and American craftspeople, and is a hub for innovation, creativity and new ideas.

El Paso, like Gaziantep, is a border town with a history of trade and craftsmanship. Amongst many things, El Paso has a rich history in leather working and cowboy boot making, specifically using saddle leather which is a wonderful, undyed leather that is 100% vegetable tanned and used in the making of the El Paso Shearling Baba. That said, our veg tanned El Paso Shearling Baba takes the idea of "breaking in your pair" & "patina" to a whole new level. Like the most well-worn saddle, or a beautiful set of boots -- these Babas start out smooth and light in color and only get richer, more beautiful and perfectly molded to your feet with every step.