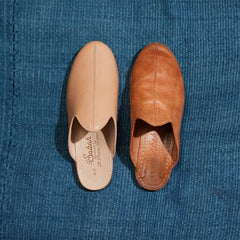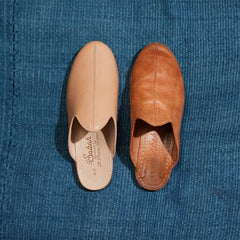 Men's El Paso Baba
£235
The El Paso Baba is produced at the Sabah workshop in El Paso, Texas using a very special undyed, vegetable tanned upper leather. Lighter in color and smooth to start, the beauty of this Baba is how the leather patinas with wear, softening and becoming richer & darker in color (pictured on the blue rug - a new pair on the left, beside a year-worn pair on the right). Vegetable tanning refers to an ancient leather tanning method which uses natural elements such as oak, spruce bark, quebracho, tara pods, olive leaves, rhubarb roots or in some cases mimosa. It's been around for centuries, but less than 10% of the world's leather is tanned this way today. Sabah veg tan leather is thicker and tougher and will develop a buttery one-of-a-kind patina because of the natural tannins we use in the tanning process. We believe that watching the dramatic transformation in tone is truly a wonderful experience.  In addition to the veg tanned upper, we also use a unique, vegetable tanned Italian bull leather sole, heel and insole, and a unique channeled, lock-stitched construction that is not common in modern footwear. Your Babas will break in with wear, stretching and forming to your feet to become uniquely yours. This process is what makes them so great!
more
100% VEG TANNED NATURAL LEATHER UPPER
100% VEG TANNED NATURAL LEATHER LINING
100% VEG TANNED ITALIAN BULL LEATHER SOLE
Lightly brush off any debris or dirt on the surface with a soft, damp cloth. Use Sabah leather cleaner and conditioner, in that order, applying the product to a soft cloth and rubbing it onto the shoe with a circular motion. Pressure isn't necessary — simply apply with a quick motion and the heat of the friction will infuse the product into the top grain of the leather. Be certain to cover the entire upper, including within the creases. Allow to dry and then buff off the excess with a clean, dry soft cloth.
Our first Baba ever made in the El Paso workshop, these will be produced in limited runs of 250 pairs.